Live Q&A
with DJ TJ
DJ TJ will personally answer all of your questions in a livestream!
You have questions...
DJ TJ has answers.
This is your chance to get a personalized response from DJ TJ.
If you need help with booking more gigs or picking the right equipment, DJ TJ can give you exactly what you need.
For only $9, DJ TJ will answer your questions so you don't have to wonder anymore. (Coaching calls cost $275/hour, so this is an amazing oppourtunity!)
Once you join, you will have a link to ask all of your questions! (Due to the amount of students, we can only guarantee 3 of your questions will be answered)
If you're serious about getting ahead in the DJ industry, join the private Q&A so you can get the exact answers you need to be successful!
Frequently Asked Questions
When and where is the livestream?
The livestream Q&A is scheduled for Sunday, March 17 2019 at 6:00 PM PST. It will last around 2+ hours (Is it okay if I overdeliver? 😉) Once you join, you will be given the link and unique password for livestream access.
What if I can't make it live?
That's okay! The livestream will be recorded so you can watch and replay it any time!
Where do I ask my questions?
Once you join, you will get a link to ask your questions!
Testimonials for DJ TJ
"Best investment ever! In just 3 short months, I've already made changes in my business approached which have resulted in more gigs and money.
Thanks to DJ TJ, I took a whole different approach to my website, I answer the phone different now, I'm closing more deals, I'm sending custom thank you cards and I'm upselling more services. I could go on and on.
His training videos have truly given me the blueprint to take my business to the next level. I'm definitely looking forward to seeing what the future holds for J² Entertainment."
"I have learned A LOT from your program. My mindset has changed, I'm being booked more at a higher rate and I'm going to be forever grateful for you providing such amazing insight!"
"DJ TJ Training has made me a better DJ company owner and DJ in so many ways. It has streamlined how I run my company and made it so I do not over complicate it for my clients.
TJ explained everything so well and made it simple to understand. I highly recommend this program to any DJ company owner, no matter how new you are to the industry!"
"DJ TJ training provides very useful inside information for DJ's that want to develop themselves and grow as professionals.
Whereas most of these "help programs" promise a lot but fail to deliver, DJ TJ training delivers fully. I can only recommend it if you're serious about making moves to a successful career as a DJ."
- DJ Professional Dictabeat
"This video series will teach you how to market and build your DJ business. It literally implies everything I personally did when I started as a beginner DJ to get where I am today."
"I have been a Professional DJ for 15 years and I usually hate a lot of training videos out there. However, I came across TJ a few months back and I am very impressed with the work he puts into it and the fact that everyone from entry-level to pros can take something from his videos."
"Great source and really helpful. I have been a DJ for many years and now own my own business. DJ Training has given me some very good tips and I think that what they offer is valuable information.
Great tips on what type of email address to use, how to answer the phone, etc. Thanks so much, DJ TJ, for all your help."
"Tanner is the real deal! A stand-up dude; he is passionate about not only his profession, his clients and DJ'ing, but even more, he is passionate about HELPING other DJ's obtain the success he's achieved.
His content is immensely helpful, applicable, and if followed, WILL produce results! I'm pleased to have made his acquaintance and truly appreciate what he's doing for the DJ community at large! Cheers!"
"I value the short videos posted by DJ TJ Training. I have bought the spreadsheet/cheat sheets and learned a lot of valuable information. If you're interested in helping your DJ business grow, you need to try out DJ TJ Training."
"This training helped me become better in running my business and dealing with clients. I highly recommend checking out the courses."
"DJ TJ is a genius. TJ, first of all, teaches you customer service at the moment he talks to you on an email, video or even voice mail.
I learned approaches that never imagined in 5 minutes with the Cheat Sheet. Thanks, TJ."
"Ever since I started implementing the tactics and information shared in this course, my bookings and sales have gone up. I feel more confident in my approach with new leads and have received referrals from it.
Take this course and you will gain the information many people don't want to share. You will see a difference within yourself and your business."
"DJ TJ is a great DJ, excellent for tips, and helps a lot if I have any questions. I wouldn't ask anyone else for help, only Tanner 100%."

"TJ gives great hints and tips and is actively on the ball!"
"Very informative Program. TJ could relate to and give solutions to real DJ problems and concerns."
"DJ TJ has very good content that going to help you a lot. I definitely recommend."

"Your course is awesome! I love it!"

"I enjoyed it and found it to be very informative."
"It was great! Good stuff!👍🏾📀💻📀🎤🎼😄"
Your Instructor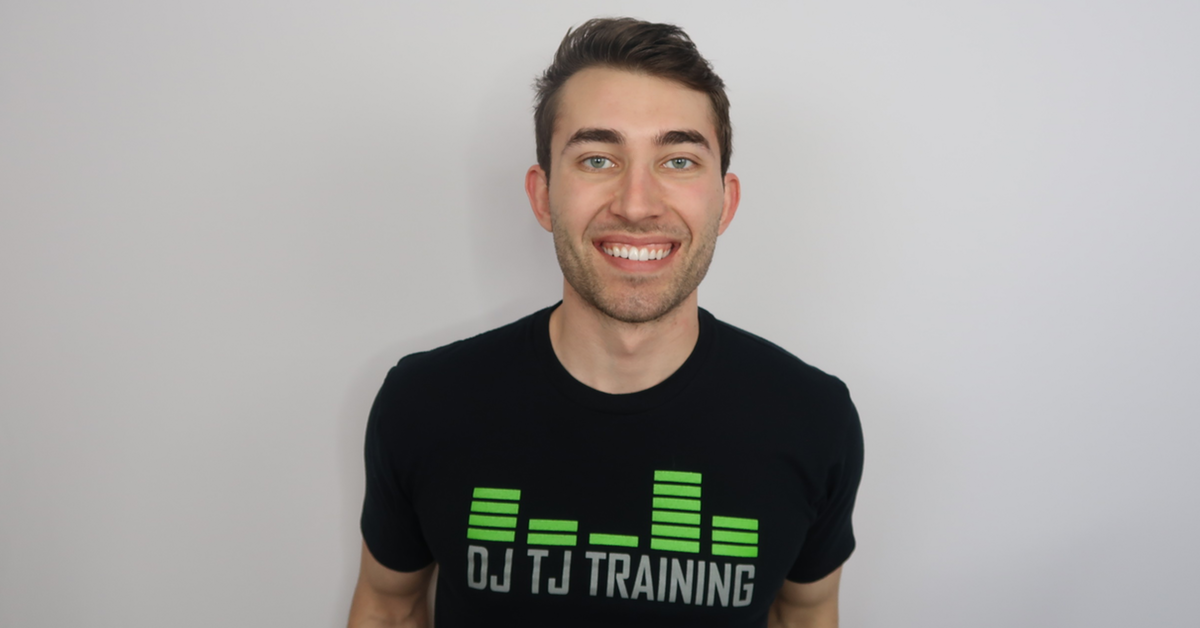 When he started DJing in 2013, it all started with a dream. A dream of becoming a great DJ with a successful business.
Tanner James, DJ TJ, started his DJ business small, with cheap iPod docks and a computer.
When one gig turned to ten, the dream started to come together.
After starting to grow his small business into a good sized DJ business, he noticed something important. He learned that a successful DJ business is not only due to the DJs' skills, but also the business and marketing abilities of the DJ.
After hundreds of hours of research, Tanner created a marketing plan that resulted in his business doubling every year.
He learned what does and doesn't work in the DJ industry and he wants to share that information with you.
His university studies at California State University, Chico in Business Administration has helped him build his successful DJ business.
He regularly attends multi-day business conferences and seminars to develop effective market strategies.
He constantly researches to stay up to date on business, sales, and marketing trends.
DJ TJ and his company, DJ TJ Entertainment, has won awards for being the 'Best DJ Company' in local towns.
Today, Tanner wants to give back and help you succeed at building your dreams.
Course Curriculum
Livestream
Available in days
days after you enroll
Bonuses
Available in days
days after you enroll