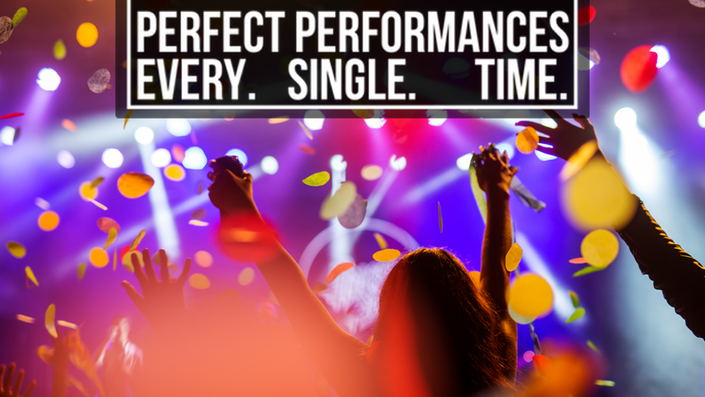 Perfect Performances - DJ TJ Training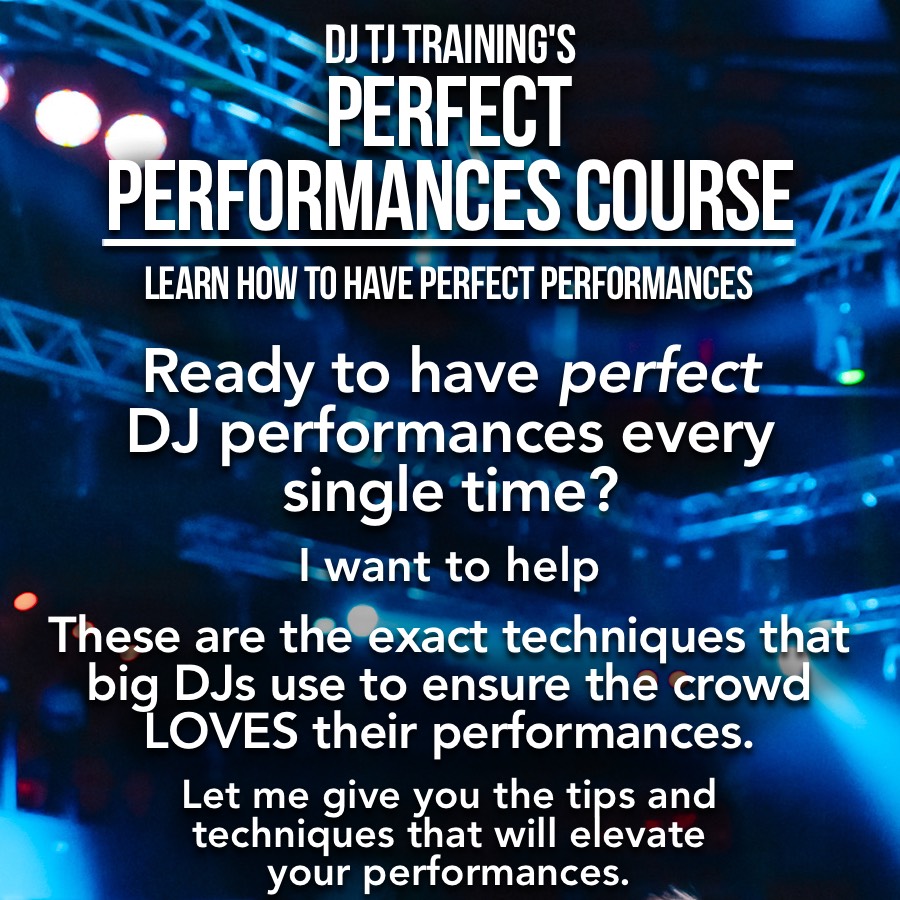 "Once I learned this information, ALL of my DJ performances became AMAZING!"

"I loved the course! You explained everything so well. You made it simple to understand and you're a very fun person, so that also made it very enjoyable. I'm definitely going to be using the peak period method from now on."
This course will give you the information you need
to have PERFECT DJ performances
EVERY. SINGLE. TIME.
Let's face it...
Some of our performances as DJs are AMAZING and some of them are ok.
I cracked the code and figured out exactly why this is.
Get the information that top DJs use to ensure they have perfect performances, no matter the genre, demographics, location, etc.
These tactics work EVERY SINGLE TIME.
What you get:
- Over 90 minutes of DJ tips, advice and information to to help you have perfect performances!
- Access the materials on your computer, smartphone or tablet…24 hours a day!
- Enjoy INSTANT ACCESS to all the materials right after your purchase!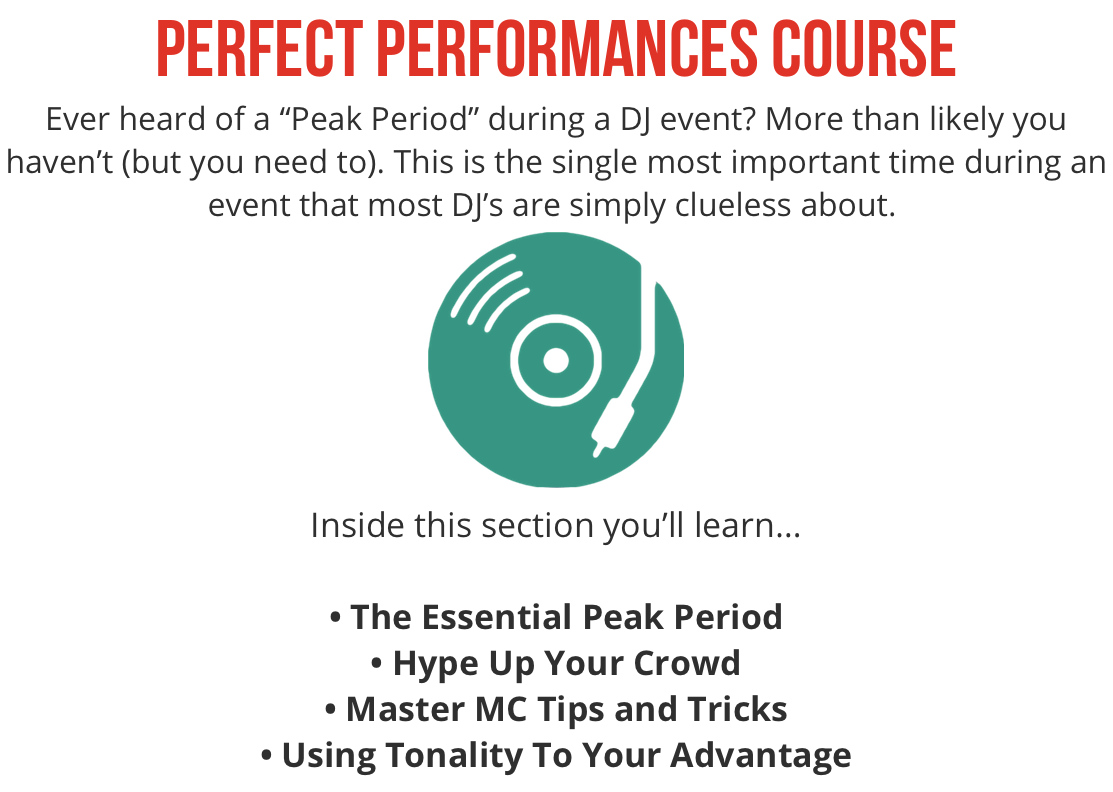 STOP Ruining Your Reputation as a DJ Because of Your Poor Performances. I'm Ready To Show You How To Take Your DJ Performances To The Next Level…
Take advantage of this opportunity today.
Click the GET INSTANT ACCESS button below to get started.

Your Instructor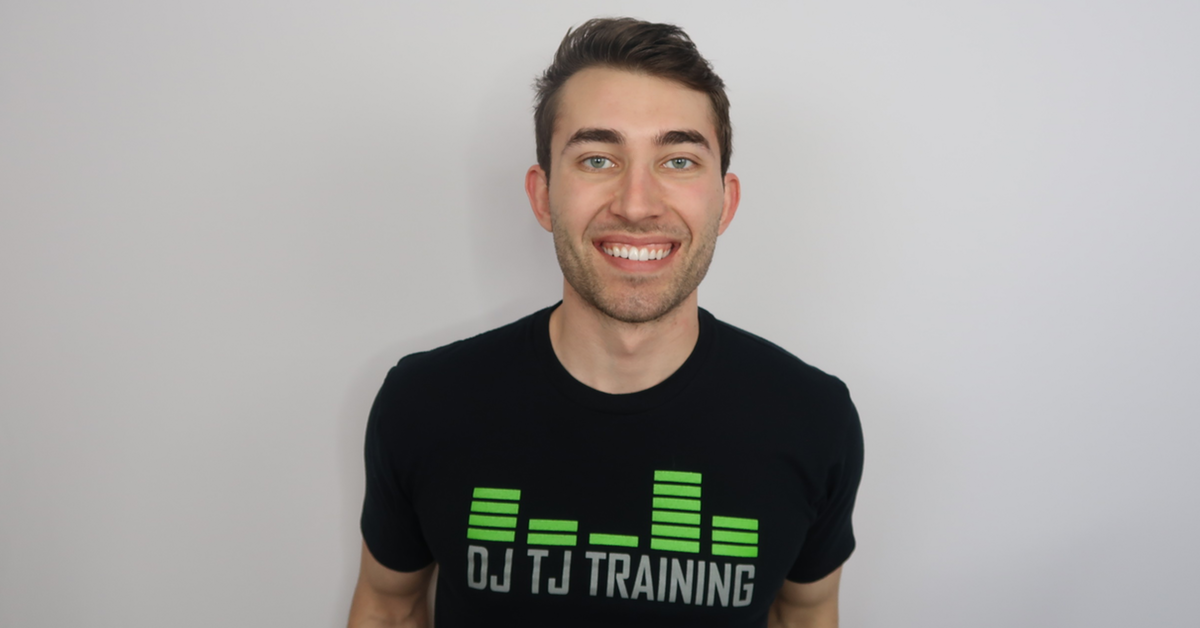 When he started DJing in 2013, it all started with a dream. A dream of becoming a great DJ with a successful business.
Tanner James, DJ TJ, started his DJ business small, with cheap iPod docks and a computer.
When one gig turned to ten, the dream started to come together.
After starting to grow his small business into a good sized DJ business, he noticed something important. He learned that a successful DJ business is not only due to the DJs' skills, but also the business and marketing abilities of the DJ.
After hundreds of hours of research, Tanner created a marketing plan that resulted in his business doubling every year.
He learned what does and doesn't work in the DJ industry and he wants to share that information with you.
His university studies at California State University, Chico in Business Administration has helped him build his successful DJ business.
He regularly attends multi-day business conferences and seminars to develop effective market strategies.
He constantly researches to stay up to date on business, sales, and marketing trends.
DJ TJ and his company, DJ TJ Entertainment, has won awards for being the 'Best DJ Company' in local towns.
Today, Tanner wants to give back and help you succeed at building your dreams.